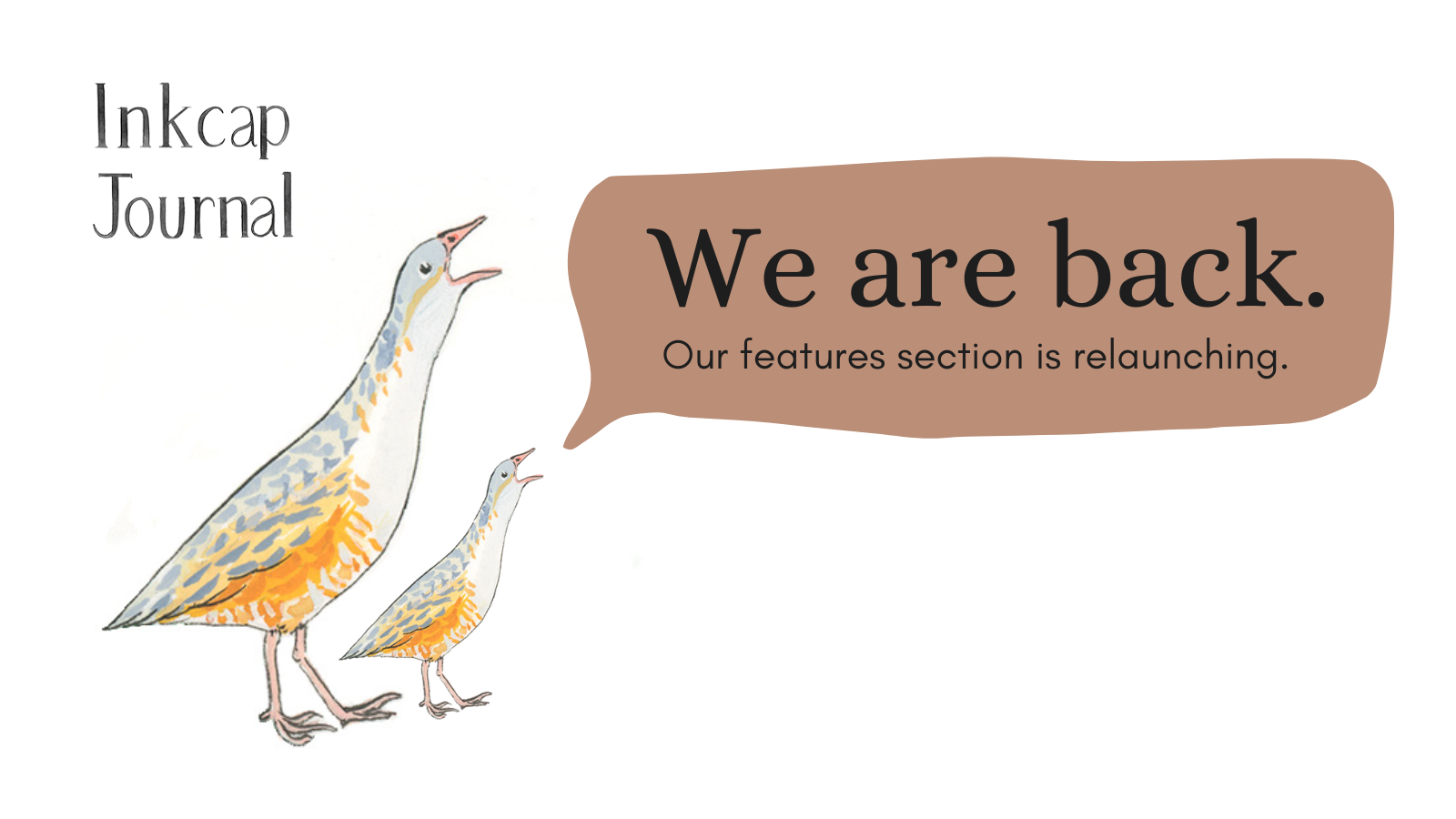 A post-baby relaunch
We are ready to start storytelling again.
Eight months ago, I found out some wonderful news: Inkcap Journal had won the prestigious Press Gazette newsletter of the year award.

In theory, this was extremely exciting. After three years, it was vindication that our environmental journalism mattered, that it was worthy of respect, and that the hard work I put into it was paying off.
The information, however, barely registered. I had just gone into labour.
A gruelling 36 hours later, and I was holding my first child in my arms. Predictably, the running of Inkcap Journal has taken a backseat in my life since then. Websites can be ignored to a certain degree. Babies cannot.
Thanks to our editorial assistant, Coreen Grant, we have continued to publish the digest every week. Our features section, however, has dried up. I was too tired, too busy, too consumed by figuring out how to be a mother.
The latter is probably the work of a lifetime. Thankfully, however, I am now slightly less tired and a little less busy. As a result, Inkcap Journal's feature section is finally making a comeback.
Making it happen
Thank you so much to those of you who continued to subscribe over the last eight months, despite the reduced output. Without you, Inkcap Journal would have folded entirely.
Totally understandably, however, many let their subscriptions slide. This means we have now less money available than ever to fund our storytelling.
Thanks to a grant from the Pebble Trust, we have enough funding to allow us to continue publishing articles over the next few months. Beyond that, however, the future is less clear. By November, we need to find 300 new subscribers so that storytelling can become a regular feature of Inkcap Journal once again.
Our features are free to read, but require money to produce. Some people subscribe simply to support our environmental journalism. For others, the main attraction is the members-only weekly digest. You can see a free sample of that, published in January, here.
Here is a reminder of some of the journalism that we have published in the past:
How to subscribe

You can sign up, or upgrade to a paid membership, by clicking this button.
You can now sign up for a 30-day free trial of the weekly digest. If you are currently on the free list, go to your account page, click 'subscribe now', then 'view plans' to activate this. Remember to unsubscribe again before the trial is up if you do not wish to continue as a full member.
For the first time ever, we are running a special offer. For the next seven days, you can take out a £3 monthly subscription (lasting for six months) or a £30 annual subscription (lasting one year).
Memberships normally cost £5 per month or £50 per year, so this is a significant discount. Feel free to forward this offer to anyone who might be interested. These links will expire at 6pm on Tuesday 6 June.
Some accounts have lapsed due to bank cards expiring. If you think you are a member, but you haven't received one of our newsletters for a while, it might be worth logging in to see if your account is still active.
Partner with Inkcap Journal
As part of our relaunch, we are looking to partner with likeminded organisations who want to offer discounted subscriptions to their staff, members or customers. Places like:
Nature and conservation charities
Bookshops with a nature-writing section
Publications or publishers focusing on natural history
Environmental departments at universities
If you are interested in hearing more, email editor@inkcap.co.uk, or simply reply to this email.
Our storytelling
Having a baby has changed me. I feel more tangibly connected to the future: the preservation of the natural world matters more viscerally. Once the fatigue of the early days lifted, I was left with a clear-sightedness that I hope to bring to our journalism.
Over the next few months, Coreen will be writing regular features on Scotland, while I will focus on England and Wales. We have some brilliant features on the Highlands and Islands in the works by a range of freelancers. Our Future Land series is making a comeback. And we have a new columnist – more on that soon. Of course, our weekly digests will continue every Friday.
I also want to hear from you. What do you think we should cover? What topics can't you read about elsewhere? Send me an email at editor@inkcap.co.uk.
Follow us
I am reluctantly revamping our social media channels. Follow us on Twitter, Instagram and Facebook. Like our posts, share our content, etc. – if only so I don't feel like I am shouting into a black hole.
Thank you for reading this far, and for being here at all. Working and mothering is a tender balance, and I am sure to stumble often. But it feels more important than ever to be part of the effort to preserve our natural world.
Sophie Yeo
Editor of Inkcap Journal
Subscribe to our newsletter
Members receive our premium weekly digest of nature news from across Britain.
Comments
Sign in or become a Inkcap Journal member to join the conversation.
Just enter your email below to get a log in link.
---