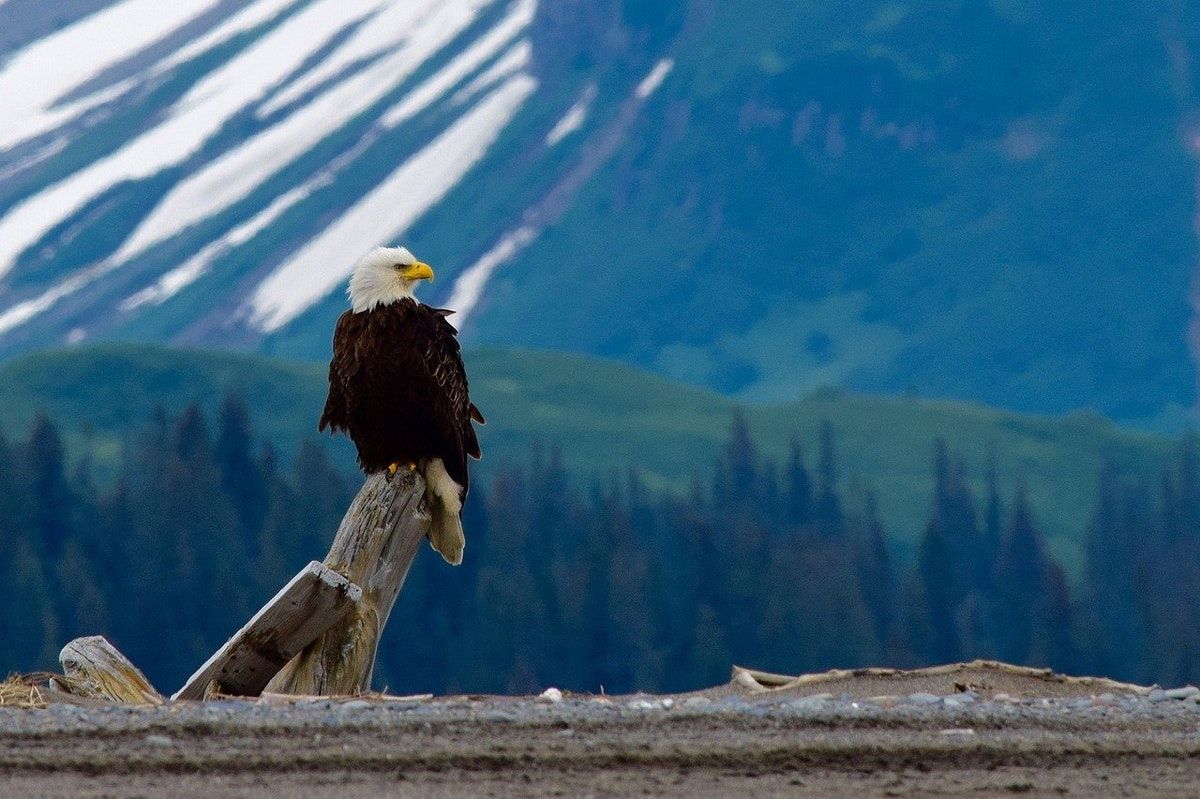 Why the US election matters for nature everywhere
A special edition of Inkcap as America prepares for its next president.
Why the US election matters for nature everywhere
Inkcap is a publication dedicated to nature and conservation in the UK, but sometimes an event elsewhere will have impacts that reverberate across the planet. The US election is such an occasion: the next president will shape the natural world beyond America's borders.
So, for one week only, I'm going to look beyond the UK. I hope that this provides a useful grounding in the issues at stake – because Joe Biden and Donald Trump have very different ideas about the future of the planet.
The world needs the US to cut its emissions
Let's start with climate change, which is already threatening lives across the globe: human, plant and animal. Joe Biden wants to fight climate change; Trump is not sure if he believes in it, and he is certainly not interested in stopping it. The best introduction to their views is this interactive feature from Carbon Brief, which also covers topics like agriculture, reforestation, and public lands.
America's involvement in tackling the climate crisis is essential. As Mary Annaïse Heglar, an American essayist, wrote in The New Republic:
"The US is the largest historical contributor to climate change, and the second-largest current contributor. We have both a moral and a logical obligation to be a big part of the solution. There is no pathway to meaningful global climate action without our federal government playing a prominent part. This country is too powerful, too armed, and too rich for the rest of the world to solve the climate crisis without it."
Climate change is already having an impact on biodiversity in the US and across the world.
A few months ago, thousands of migrating birds died in the south-western US; people witnessed them drop from the sky. The Guardian reported that dry conditions related to the climate crisis meant there was not enough food for the migrating birds, and that their lungs could have been damaged by wildfires. And that's just one example among many.
Trump has a terrible record on the environment
President Trump has had four years to make good on his promise to provide Americans with "crystal clean water" and "beautiful clean air". Yet the environment has suffered during his presidency. The Guardian has compiled a blistering list of the ways in which Trump's administration has damaged the planet. For example, it has:
Rolled back rules prohibiting the hunting of bears and other predators in Alaskan national preserves.
Removed protections for the endangered Atlantic bluefin tuna.
Changed the way the Endangered Species Act is applied, making it harder to protect animals and plants.
Weakened a rule that directs states to improve visibility at national parks by controlling pollution.
In another article, the Guardian highlights some of the species that have been imperilled by Trump's rollbacks of environmental protections, including wolverines, sage grouse, whooping cranes, black bears and the North Atlantic right whale.
Would Joe Biden be the president that nature needs?
Joe Biden has been painted as a moderate Democrat – and "moderate" is not what the natural world needs right now. For example, he does not support the Green New Deal, a radical plan to tackle climate change backed by Alexandria Ocasio-Cortez. Margaret Renkl, a columnist who covers the American South, writes in the New York Times:
"Despite the Democratic Party's forward-thinking position on conservation and Joe Biden's own $2 trillion plan to address climate change, Mr. Biden is not an environmentalist's dream candidate: There is just no responsible way forward that includes fracking, which Mr. Biden would not move to end."
Biden's climate plan has, nonetheless, won praise from many quarters, including progressive Democrats. Barack Obama said that Biden has "the most progressive platform of any major party nominee in history". Greta Thunberg has also urged her supporters to vote for Biden.
The New York Times has an article on the $2 trillion climate package that Biden is promising. And, according to CBS News, it actually has a lot in common with the Green New Deal:
"That's because over the last few months the Biden campaign made a deliberate effort to consult with more progressive factions of the party through the Biden-Sanders Unity Task Force, a committee which included climate and environmental justice activists like the Sunrise Movement — a group instrumental in the design of the Green New Deal. Biden has committed to some, but not all, of the task force's recommendations."
But there's the gap between what's proposed and what might actually happen. As reporter Coral Davenport writes in the New York Times:
"Thirty-six years in the Senate and the searing experience of watching the Obama administration's less ambitious climate plan die a decade ago have taught him the art of the possible. Still, a President Biden could have real impact: solar panels and wind turbines spread across the country's mountains and prairies, electric charging stations nearly as ubiquitous as gas stations and a gradual decrease in the nation's planet-warming greenhouse pollution."
Crucially, from an international perspective, Joe Biden has also promised to rejoin the UN Paris Agreement, which the US will formally exit tomorrow after Trump set the stage for withdrawal in the White House Rose Garden three years ago.
Biden's policies on nature have received mixed reviews. In his climate plan, he promises to protect biodiversity "slowing extinction rates and helping leverage natural climate solutions by conserving 30% of America's lands and waters by 2030." More specifically, he says he will:
Permanently protect the Arctic National Wildlife Refuge and other areas.
Establish national parks and monuments that reflect America's natural heritage.
Ban new oil and gas permits on public lands and waters.
Establish targeted programmes to enhance reforestation.
The goal of conserving 30 percent of land and water has been described as "game-changing" by David Shiffman, a marine conservation biologist, in Scientific American – and he believes it has a chance of actually happening, too, given broad bipartisan support for conserving wild places. For Jimmy Tobias, a journalist covering wildlife, the plan lacks crucial details. In Sierra magazine (I've edited slightly for brevity), he writes:
"How will he strengthen the Endangered Species Act and the Migratory Bird Treaty Act, two foundational wildlife laws that President Trump has undermined at every turn? And what will a Biden administration do to restore nationally important ecosystems? What will Biden do about vanishing wolverines, whooping cranes, and northern white rhinos?  And how will he pursue his plans for renewable energy, rail, and infrastructure development without further fragmenting wildlife habitat?"
The road ahead
The outcome of the election will only partially predict the next four years. Politicians and activists will help to determine whether the intentions of the president – whoever that may be – succeed or fail. As journalist Emily Atkin writes in her fiery newsletter Heated:
"Should Biden win in November, it's increasingly looking like the main climate fight ahead will be reigning in outside influence from fossil fuel interests and lobbyists, as well as policy advisers who have historically supported fossil fuel growth."
As Tobias points out, Democrats have not universally sought to protect America's creatures. "Point being, even if Biden wins, the fight to protect imperiled species will still be a fierce one," he writes.
If Trump wins another four years in the White House, it will be another story altogether – and I'm not going to think about it unless I have to.
---
Image credit: skeeze
Subscribe to our newsletter
Members receive our premium weekly digest of nature news from across Britain.
Comments
Sign in or become a Inkcap Journal member to join the conversation.
Just enter your email below to get a log in link.
---