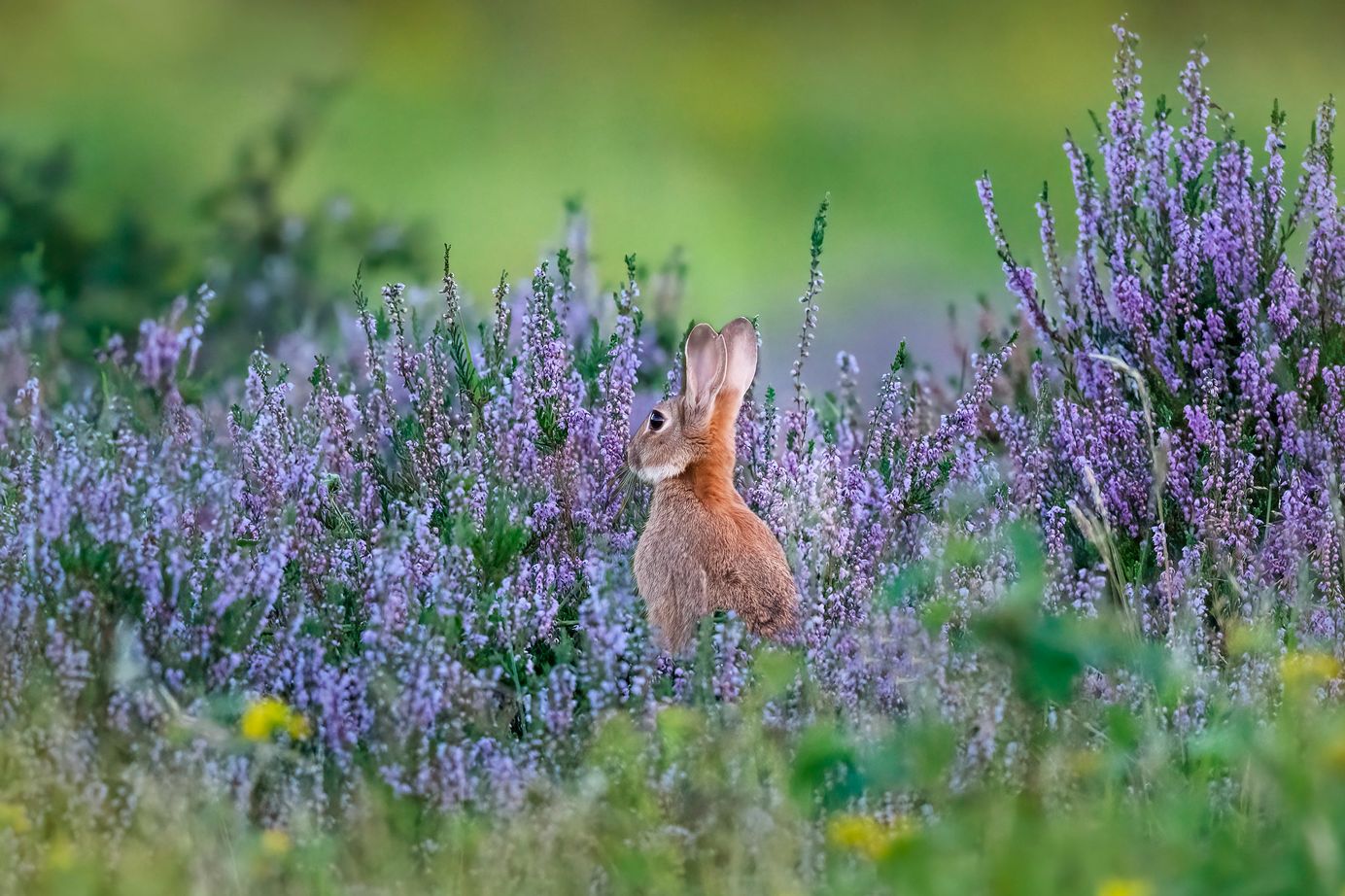 The bleak, industrial beauty of Scotland's heather moorlands
Ecology and aesthetics clash amid Scotland's blooming uplands.
This is an extract from Stephen Rutt's new book, The Eternal Season: Ghosts of Summers Past, Present and Future, which is published tomorrow by Elliot & Thompson.
---
The track through the heather switches back, crosses a small burn on a good wooden bridge and leads up to a road.

Ahead: the high grey clouds end just above distant western hills, a splash of apricot light over the dark hills of Carsphairn and Scaur, the black plantation forestry and the pea-green cow fields that glow when the sun breaks through the clouds in the middle distance. The contours are smooth but the surface is not: straggly moor grass, heather blooming or burnt, grey scree fields form a ragged quilt of upland colours – grey, maroon and green.
To the east the Lowthers roll gently into brown grass moor that seems without end until grey horizon. Northwards: waves of smaller hills, crested with heather, plantation forest, wind turbines until grey space, the same colour of haze as the horizon to the east.
But it's not the limit to what we can see. Yesterday we were at the coast and could see down the Solway to the Isle of Man with a clarity that belied the fifty-mile distance. Today we can see further: beyond Glasgow to granite perfection; the jagged triangular Bens of the West Highlands.
Distance does things to me. These days are as if blessed by an atmosphere of crystal clarity, a sensation I associate with winter, not August. I keep in my mind a list of massive views I have seen, with a slight compulsion towards bigger, which is better for my mind, which likes to be reminded of my incredible smallness and insignificance in the vastness of the world.
It was just a short way northeast of here and a month later that Hugh MacDiarmid would have rested on a hillside like this and seen the view that inspired a section of one of his long poems, Dìreadh, which has become famous and is frequently anthologised as a poem in its own right. 'Scotland Small?' finds the poet nestling in a heather hillside, addressing the question of Scotland's status as a nation in its hillside flora while surrounded by many of the species we have seen today (tormentil, harebell, sphagnum, rowans).
He finds the importance in the micro – the wild underfoot that serves his political purpose. That descent into details opens up the same vertiginous scale that I get from tracing the horizon to its furthest extent. But whichever you look, up or down, it does not matter – we would agree on these points: Scotland is closer in size to the infinite than the small and these hillsides are the gateway to that understanding. All it takes is looking.
But let me trace some other details that MacDiarmid would also agree with me about. If Drumlanrig is a building designed to project wealth, then these are hills managed to perpetuate it.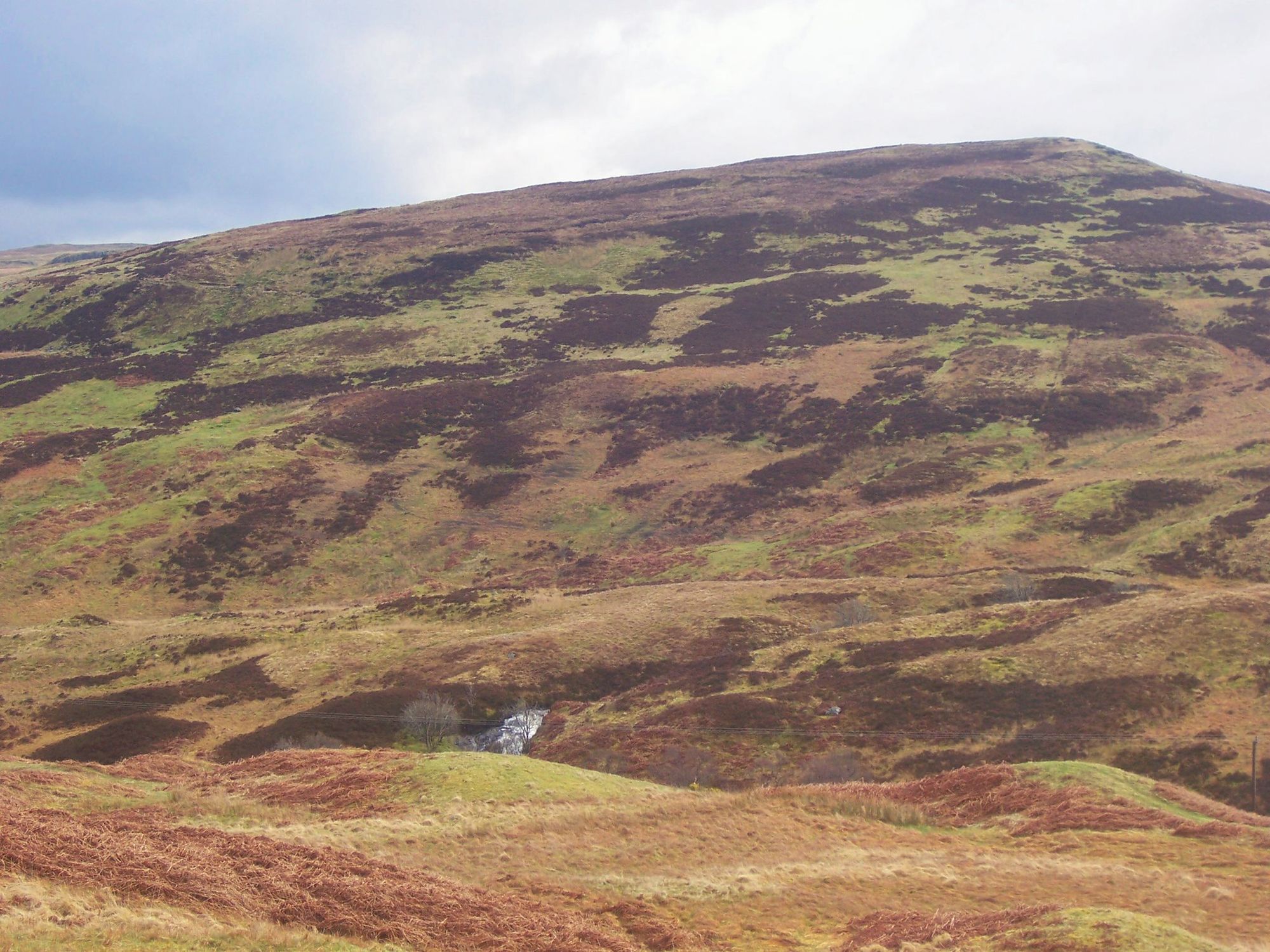 As we descend through the heather, we experience it just beyond a burnt patch. A chuck-chuck-chuckling sound. I reply: 'go-back-go-back-go-back' and three red grouse fly in, on a short burst of wingbeats, powering portly bodies with maximum effort.
They land in the heather, disappearing: maroon on maroon. Then heads pop up, each bearing a bright red comb arched like a suspicious eyebrow. They bob and walk and bob and cluck. Each one personably, a bird that moves in charismatic ways, a gamebird that doesn't have the oblivious-to-the-world apparent idiocy of the partridges and pheasants that are bred and released to die; though that too will come to the grouse, soon. August is ending and since the 12th it has been legal to shoot them. Parties of people prepared to shell out the serious money that this takes will be out here doing it.
It's not just this place but hillsides all over the country that are like this. Where the illusion of nature is strong, where it operates on the idea of 'nothing but heather'. This is not a post-industrial upland at all, but one thick in the middle of an industry.
This burnt heather we are near is a form of management. The moor here is also owned by the Duke of Buccleuch and Queensberry. The Drumlanrig website describes the Duke's moors as being 'well-maintained by burning' and also 'stringent vermin control'.
Vermin is an interesting word: it means a wild animal that poses a threat to something tended, such as game. The area around Wanlockhead, as the depressing website Raptor Persecution Scotland makes clear, has seen the illegal shooting of a golden eagle and hen harrier, birds that could be seen as vermin by the managers of grouse moors who rely on the removal of predators to keep the grouse populations plentiful. It comes in for visceral criticism on social media.
Much that we think of as new isn't. Criticism of gamekeeping practices feels like a recent thing on the internet, yet I have a book, John H. Salter's Bird Life Throughout the Year, from 1917, where the September chapter has a subtitle: 'The Sacrifice to Game'.
Incidents of herons and hedgehogs killed for spurious game-preservation reasons are detailed. Salter goes so far as to say that these 'are the ordinary victims which constitute the holocaust, the great sacrifice at the altar of game preserving'. He goes on to suggest that illegal pole traps are still used, the law not enforced. This is current today, a century on: a glance at the internet will find instances where pole traps have still been used to kill and injure birds, normally raptors.
This might make you think Salter is a surprisingly modern voice – it surprised me to read it – and yet his defence of the kestrel and the merlin's right to life is undercut by an insistence that 'the sparrowhawk deserves no mercy'.
Salter's conclusion is that with more humanity and nuance, gamekeeping could create a landscape that naturalists would be proud of – a position that nowadays would manage to offend everyone. But at least Salter has argued it: Gordon Hamlin's Our Birds Month by Month touches on birds of prey and the wish that 'their nests escape the ravages of unscrupulous egg collectors . . . the worst enemies of our rarer birds!' Hamlin might as well be a politician offering his 'hopes and prayers' in response to a crisis.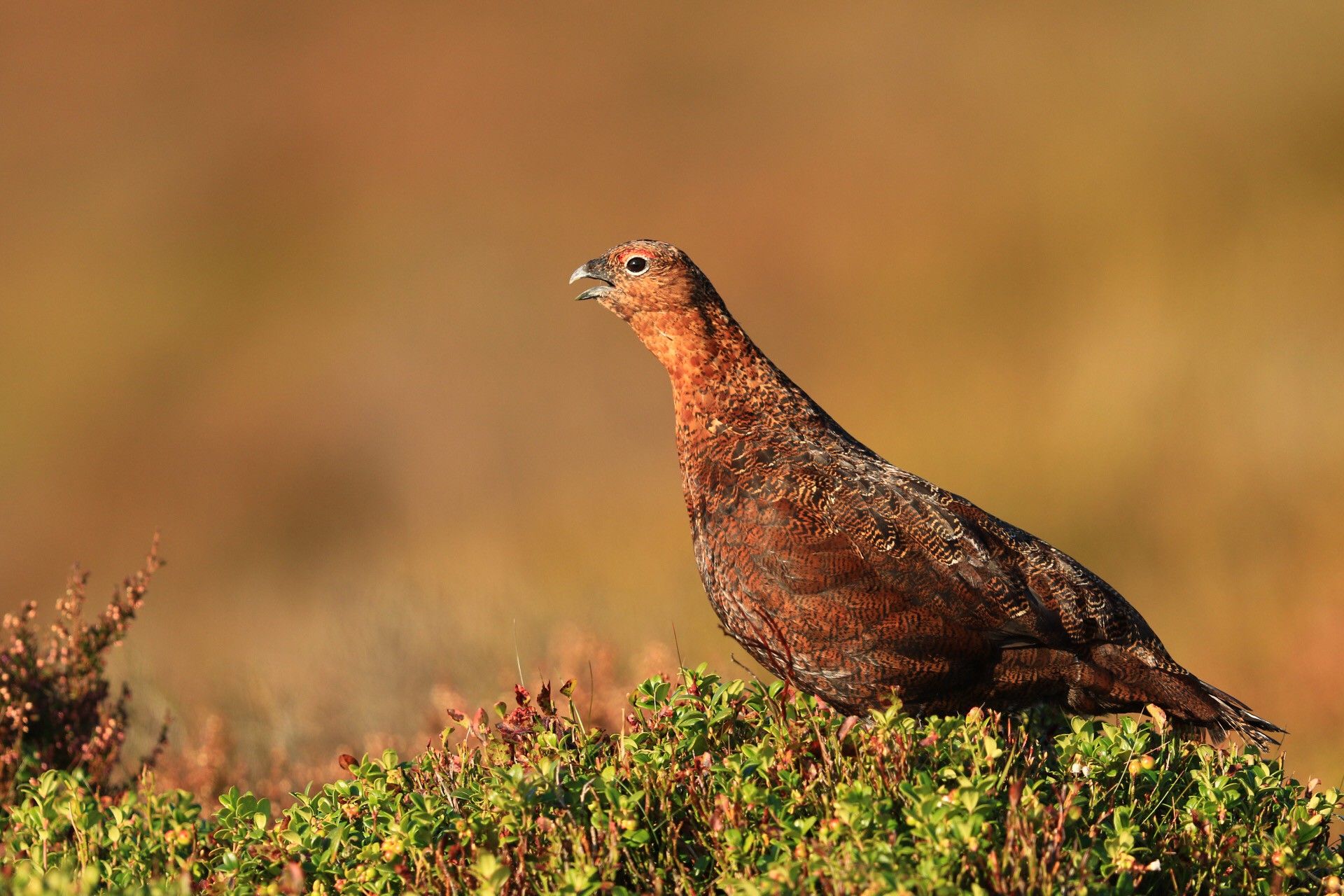 But I digress. The burnt-heather management is carbon intensive. Peat holds carbon. Our uplands hold a lot of it: one of the few things Friends of the Earth Scotland and the Moorland Association can agree on is that there's more carbon held in Scotland's moors than in British woodlands. Burning releases it and other pollutants into the air. The point is to stimulate fresh growth of heather, the shoots of which are particularly nutritious grouse food.
There is little in the way of other vegetation that you might expect to find in the uplands. Heather regenerates better than anything else after fire. These moorlands are tended and manicured by fire, as controlled as any suburban garden.
And I am reminded, as the path makes its final descent back to Wanlockhead, of one of the bitter truths of walking in the countryside: that aesthetics and ecology are often opposed. But there's a consolation here. F. Scott Fitzgerald wrote about the mind's ability to 'hold two opposed ideas . . . at the same time, and still retain the ability to function' and this is useful to contemplate while looking at these heather and grass uplands, and finding them beautiful (as I do) and also devoid of much potential for life (which I also do).
Because to walk through them is to submit to miles and miles of just heather. If it wasn't for the aesthetics, it would be hard to cope with. But as I acknowledge this, I also need to acknowledge that almost all the birds I found were around the service track to the radar station, in the interruption to the ocean of heather.
This bitter truth I have found repeated all season. This summer has been a time of overwhelming beauty and bleak despair. Some things have worked as they should, while others have fallen apart. This summer things have felt deeply unreal and strange, and nature, even as I have found examples of it to be deeply troubling, has provided great relief.
So it seems appropriate here, in the crystalline light of the Southern Uplands, as August draws to a close, taking summer with it, that it should be an afternoon in the illusion of nature to bring this into focus.
---
This is an extract from The Eternal Season: Ghosts of Summers Past, Present and Future, which is published by Elliot & Thompson on 1 July.
---
Inkcap is 100% reader-funded. If you value independent environmental journalism, please consider supporting Inkcap by becoming a paid subscriber.
Subscribe to our newsletter
Members receive our premium weekly digest of nature news from across Britain.
Comments
Sign in or become a Inkcap Journal member to join the conversation.
Just enter your email below to get a log in link.
---