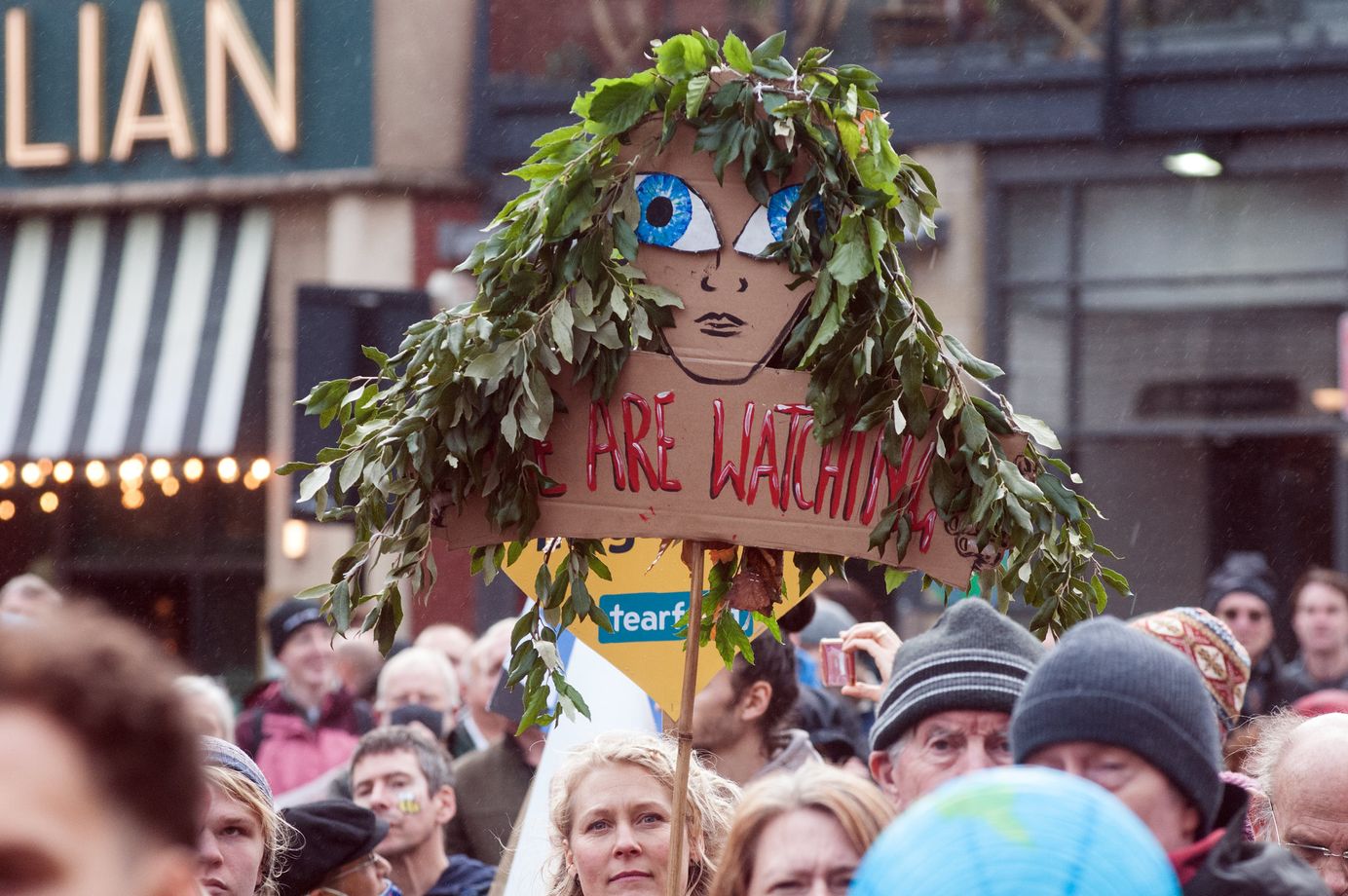 Nature at COP & Poisoned Yew
The latest news on nature and conservation in Britain.
Welcome to Inkcap Journal, a newsletter about nature and conservation in Britain. This is the Friday digest, rounding up all the week's news, science, reports, comment and more. Sign up here to receive them every week.
---
National news
COP26 | In theory, today is the final day of COP26. In practice, it will likely run into the weekend. As with last week, this is our attempt to round up the most important stories relating to nature in Britain – though if you want a more in-depth perspective on the political negotiations more generally, then this BBC article is a good place to start. Nature does make an appearance in the draft decision text as it stands (at time of writing, at least – things can change quickly), with parties recognising "the critical role of nature-based solutions and ecosystem-based approaches in delivering benefits for climate adaptation and mitigation". And, according to an account from the RSPB, there has been more about nature at this round of talks than ever before. But Bolivia, a country which has long pushed for the inclusion of "Mother Nature" in these talks, was unhappy with the tone of the discussion, including the role of nature-based solutions. "This text assumes that nature is only in service of people's needs, but nature has an intrinsic value. It is sacred. That must be reflected," according to one delegate. Earlier this week was the official Nature and Land-Use Day, which saw 45 governments, led by the UK, pledge action and investment to protect nature and shift to more sustainable ways of farming – although the plans failed to mention the impacts of meat and dairy, according to the Independent. The Wildlife Trusts were unimpressed by the announcement. "While this sounds good on paper, it's extremely frustrating that our own Government is failing to make progress at home," said Joan Edwards, director of policy and public affairs. The news was also covered by Reuters and the Herald. Also on farming, the Scottish government has signed up to the 4 per 1000 initiative, which was established at COP21 in Paris, and which focuses on boosting carbon storage in agricultural soils.
Environment Bill | The Environment Bill has finally been approved by Parliament and received Royal Assent, making it the first new piece of legislation to govern the natural environment in 20 years. MPs have been working on the bill for exactly 1,056 days, with the issue of sewage becoming a key battleground in recent weeks. MPs eventually reached a compromise on the issue on Monday, reports the Guardian. However, the bill is much wider in scope than sewage alone. Environment secretary George Eustice celebrated the moment, saying that the new legislation will "halt the decline of species by 2030, clean up our air and protect the health of our rivers, reform the way in which we deal with waste and tackle deforestation overseas." Elsewhere, the reaction was more muted. The Wildlife Trusts welcomed measures around Biodiversity Net Gain and Local Nature Recovery Strategies, but added that "the Environment Act does not live up to its promise to be a world leading piece of legislation." The RSPB also expressed concern that the watchdog lacked true independence "to hold future Governments to account." Ruth Chambers of Greener UK, who has followed the debate since the beginning, stressed that the real work starts now. "Passing the act is momentous but will count for nothing if it's not seized upon with vigour by government and translated into real action on the ground," she said. The Guardian and the BBC covered the story.
Restoration | The Scottish government has established a £55 million fund for projects that restore nature and tackle the causes of biodiversity loss. The money will be distributed over the next five years, amounting to £13.5 million annually. According to Nicola Sturgeon, it is the government's "biggest ever grant scheme specifically targeted at nature restoration". The Treasury also made a big funding announcement this week, with £15 million going towards the digitisation of Kew's herbarium. By putting its plant and fungal specimens into a digital format, the collection will be protected from gradual deterioration with age or catastrophic loss from fire, and will be available to researchers from all across the globe. "These collections represent knowledge of plant and fungal diversity that will help scientists around the world conserve nature and find solutions to some of the most critical challenges facing humanity," said Richard Deverell, director of Kew Gardens.
In other news:
---
Across the country
Shetland | The proposed Cambo oil field project off Shetland could jeopardise hundreds of species in a marine protected area, according to opponents of the development. Pipelines for the Cambo field would run 22 miles across the Faroe-Shetland Sponge Belt, home to 400-year-old clams and rare deep sea sponges, reports the Times. Sixteen marine protection and climate groups, including Greenpeace UK, WWF-UK, the Marine Conservation Society and Friends of the Earth Scotland have written to the offshore oil and gas environmental regulator asking it to include marine impacts when assessing the Cambo application. Climate campaigners are also opposing the development. The story was also covered by the BBC and the Scotsman.
Cornwall | Cornwall Council is working with a team of experts to explore the potential of reintroducing lost mammals to the county. The project focuses on six species: the water vole, red squirrel, pine marten, Eurasian beaver, wild boar, and European wildcat. Although there are no concrete plans yet to reintroduce species, the Council will explore the potential benefits to the local environment, communities and businesses. "Re-introductions of lost native species provide a story of hope in a time where we are all too aware of the crisis facing the natural world," said Pete Cooper, an ecologist on the project team. "Some of the mammals considered in this study have gone extinct relatively recently such as water vole and red squirrel, so many residents will have memories of seeing them in Cornwall." Cornwall Live reported on the story.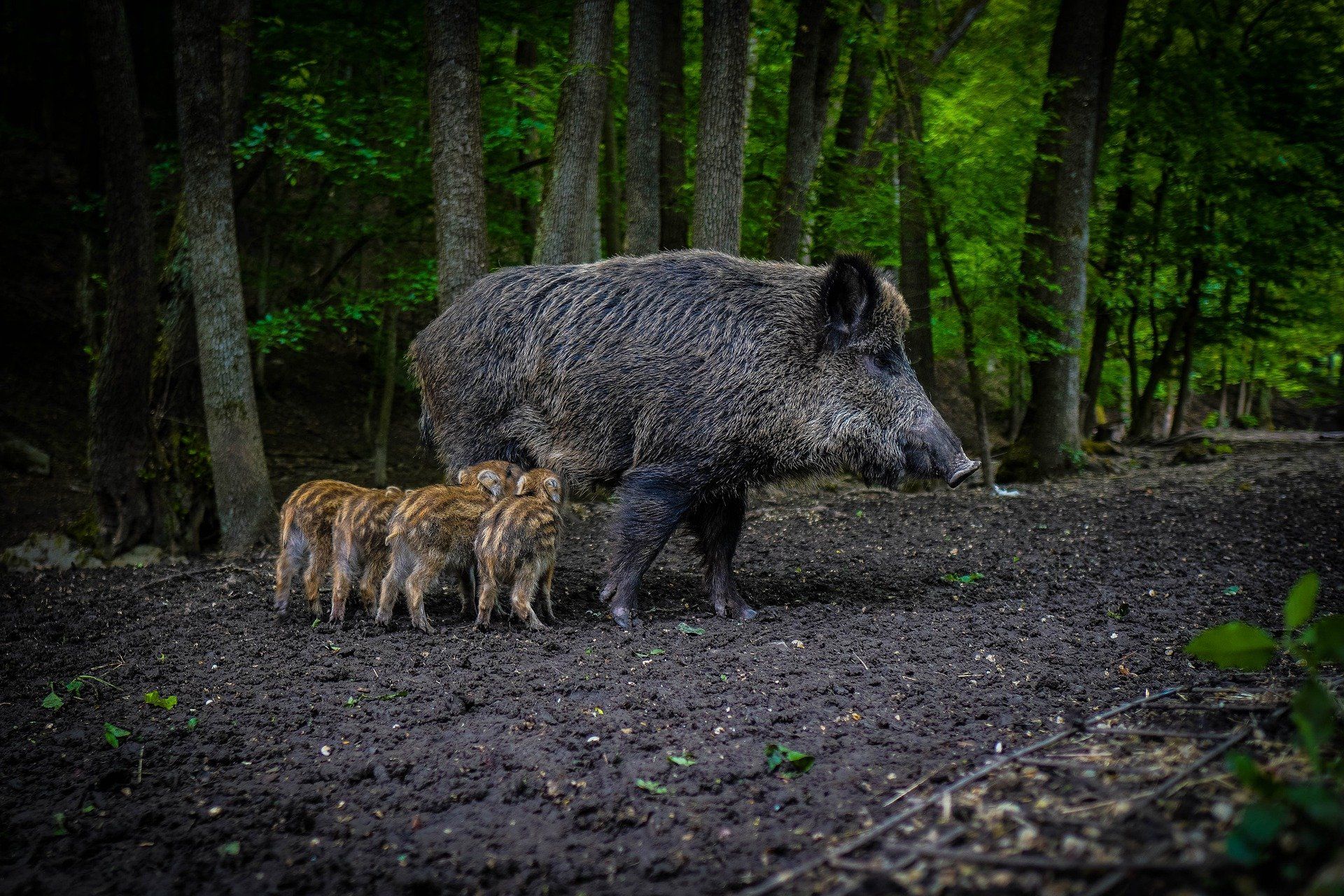 Wiltshire | A 200-year-old yew tree, which stands in a churchyard near Marlborough, has been deliberately infected with a "bathful" of poison, reports the Independent. Chemical testing revealed that glyphosate, a herbicide, was used on the tree, which began dying over the summer. It's not clear why anyone would have wanted to harm the yew. Villagers are angry, and worried that other trees may also have been targeted.
Elsewhere:
---
Reports
Thames | The Zoological Society of London has released its State of the Thames report, looking at what has changed in the 60 years since the Thames was declared 'biologically dead' in 1957. On the positive side, there has been an increase in the range of birds, marine mammals and natural habitats since 1990: sharks, seahorses, eels and seals have all been found living in the estuary system. However, the report also highlights that pollution levels from sewage are increasing, and that climate change has increased both water temperatures and sea levels in the tidal parts of the waterway. The BBC's environment correspondent, Tom Edwards, called the findings "bittersweet". The Guardian also covered the report.  
Nature-based solutions | A significant contribution from nature-based solutions is both necessary and possible to keep global warming below 1.5C, according to a report by the United Nations Environment Programme and the IUCN. The report, which analyses existing scientific literature on the topic, concludes that, in order to fulfil their full potential, nature-based solutions will require additional finance and strict standards for implementation. While the report focuses on the role of nature-based solutions in climate mitigation, it also highlights the role they can play in adaptation and biodiversity conservation.
Farming | A new report models how the UK could successfully transition to an agroecological system by 2050. The research, carried out by IDDRI, expands on the land sharing versus land sparing debate. It finds that the adoption of agroecological practices would boost biodiversity and reduce emissions, while also reducing crop yields by 17% to 25% and requiring people to halve their consumption of animal products. The modelled approach would also release 10% of current agricultural land for ecosystem restoration.
---
Science
Invasive species | In a paper in Conservation Science and Practice, philosopher Christopher Hunter Lean argues against the recent flourishing of scepticism toward the control of invasive species. Critics of invasion biology have argued the invasion of ecosystems by nonindigenous species can create more valuable ecosystems by increasing local species richness. However, 'invasive species sceptics', according to Hunter Lean, fail to recognise that biodiversity is not accurately described by a local species count. Or, in other words, "adding rats, cats, and pigeons to every corner of the globe does not preserve the heritage or options value of an area."
Oceans | Conserving 30% of threatened marine species will require 40% of the ocean to be protected, according to a study published in Biological Conservation, exceeding recent calls to protect 30% of marine habitats. Using maps of 974 threatened species ranges, the authors found that the increased percentage was required to encompass the ranges of around 30% of IUCN Red List threatened species – the coverage needed to safeguard against extinction. It reveals that currently, only 2.5% of priority areas for biodiversity conservation are within marine reserves.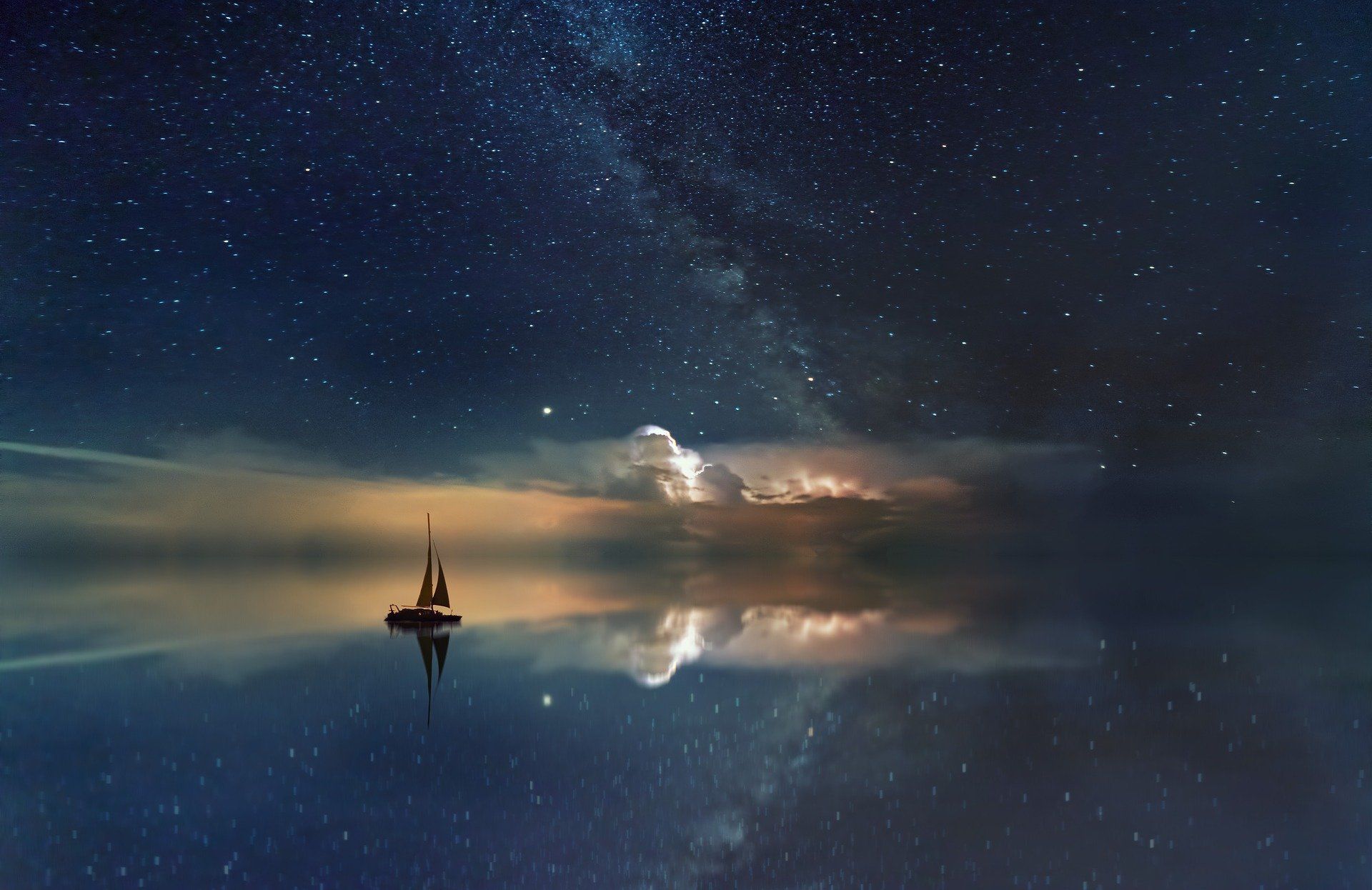 Fields | Artificial field defects are a low-cost way to support arthropod diversity in arable fields, according to a study in Agriculture, Ecosystems and Environment. Artificial field defects are areas where the crop is intentionally not sown, allowing spontaneous vegetation to grow in its place. Using oilseed rape fields for the experiment, the study found that artificial field defects resulted in more abundant and species-rich assemblages of butterflies, tree bugs, bees and wasps. The authors concluded that such areas could be a simple way to support these creatures, but that "further studies are needed to assess their biodiversity value at the landscape scale, and evaluate the balance between costs and benefits for farmers."
---
Driftwood
Roaming | Writer and woodland owner Simon Leadbeater makes the case against the Right to Roam in an essay for ECOS. The idea that humans should have unfettered access to nature is, he says, an essentially anthropocentric notion that puts the rights of humans over the ecosystem. He worries about the impacts of dogs, litter and the costs of liability insurance for small landowners, and likens the approach to colonialism "in the sense that woodlands and other quasi-natural areas have already been dominated and ecologically impoverished by human conquest and subsequent management."
Hedgerows | Prince Charles has focused on hedgerows for his "traditional birthday leader article" in Country Life magazine, which is summarised here. "Our remaining hedgerows are still the country's single biggest Nature reserve, offering important green corridors and an abundance of food and protection for wildlife," he says. He also takes aim at tree-planting schemes that appear to be little more than an afterthought on the part of developers of housing schemes and road building projects: "Trees are deployed as landscaping, yet never tended again, with the result that millions may have been planted, but many quickly die through neglect, a lack of watering, weeding or such like." His comments were covered by the Telegraph.
Grouse | The John Muir Trust is calling for a tax on deer and grouse estates that fail to ensure their land properly locks up carbon dioxide, reports the Observer. The so-called 'carbon emissions land tax' would band estates according to land type and size, and would have a particularly large impact on Scotland. The Trust argues that only estates and farms bigger than 1,000 hectares would be liable for the tax. Separately, on the back of another conviction of a gamekeeper for illegally poisoning a buzzard, the RSPB asks just what it will take to stop such incidents from occurring.
Further reading:
---
Happy days
Berries | I didn't spot anything especially eye-catching online this week, but out in the real world, I did encounter these stunning purple berries. It's not long until winter sets in, so I'm enjoying these bursts of colour while I can.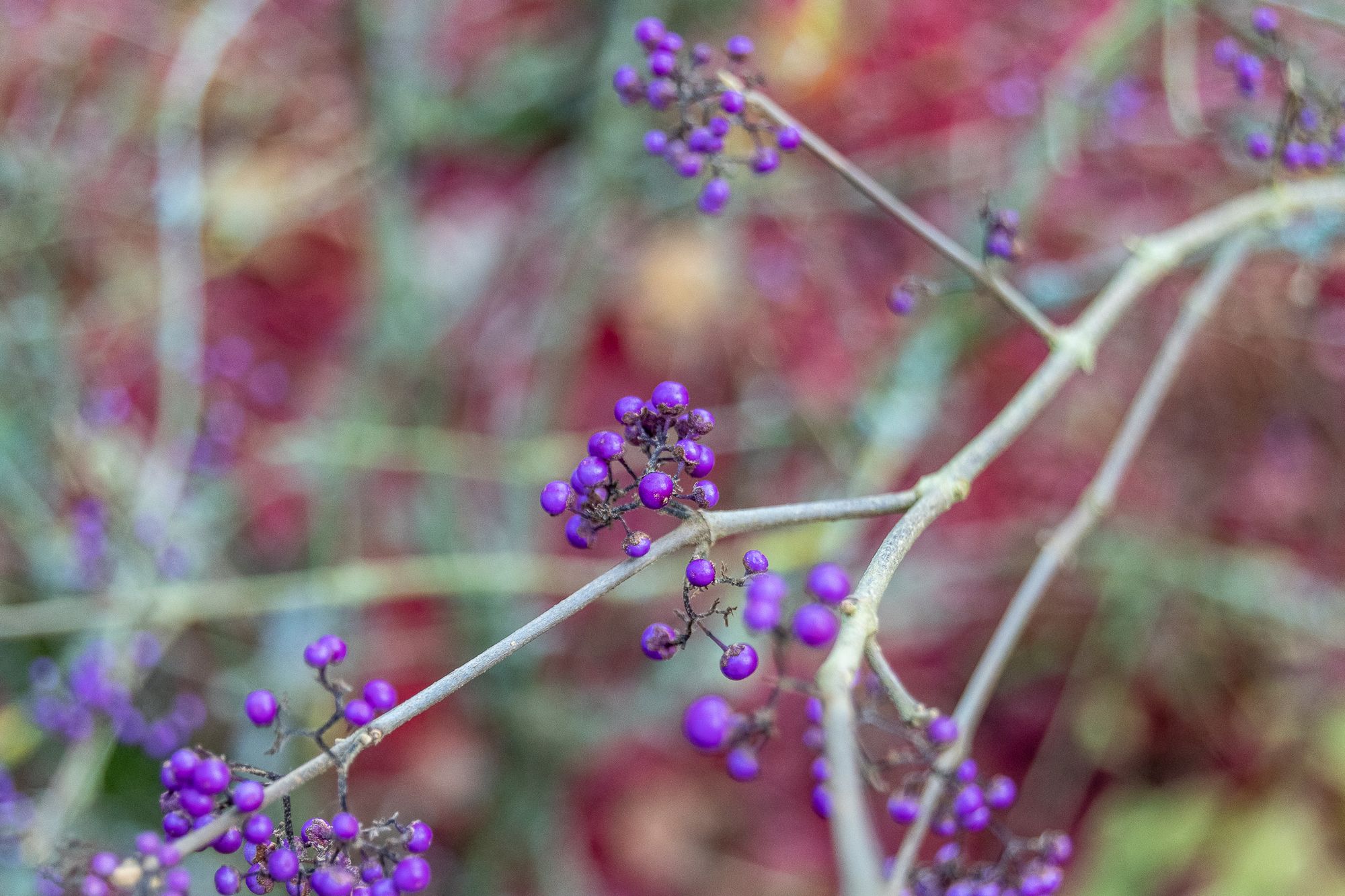 Subscribe to our newsletter
Members receive our premium weekly digest of nature news from across Britain.
Comments
Sign in or become a Inkcap Journal member to join the conversation.
Just enter your email below to get a log in link.
---