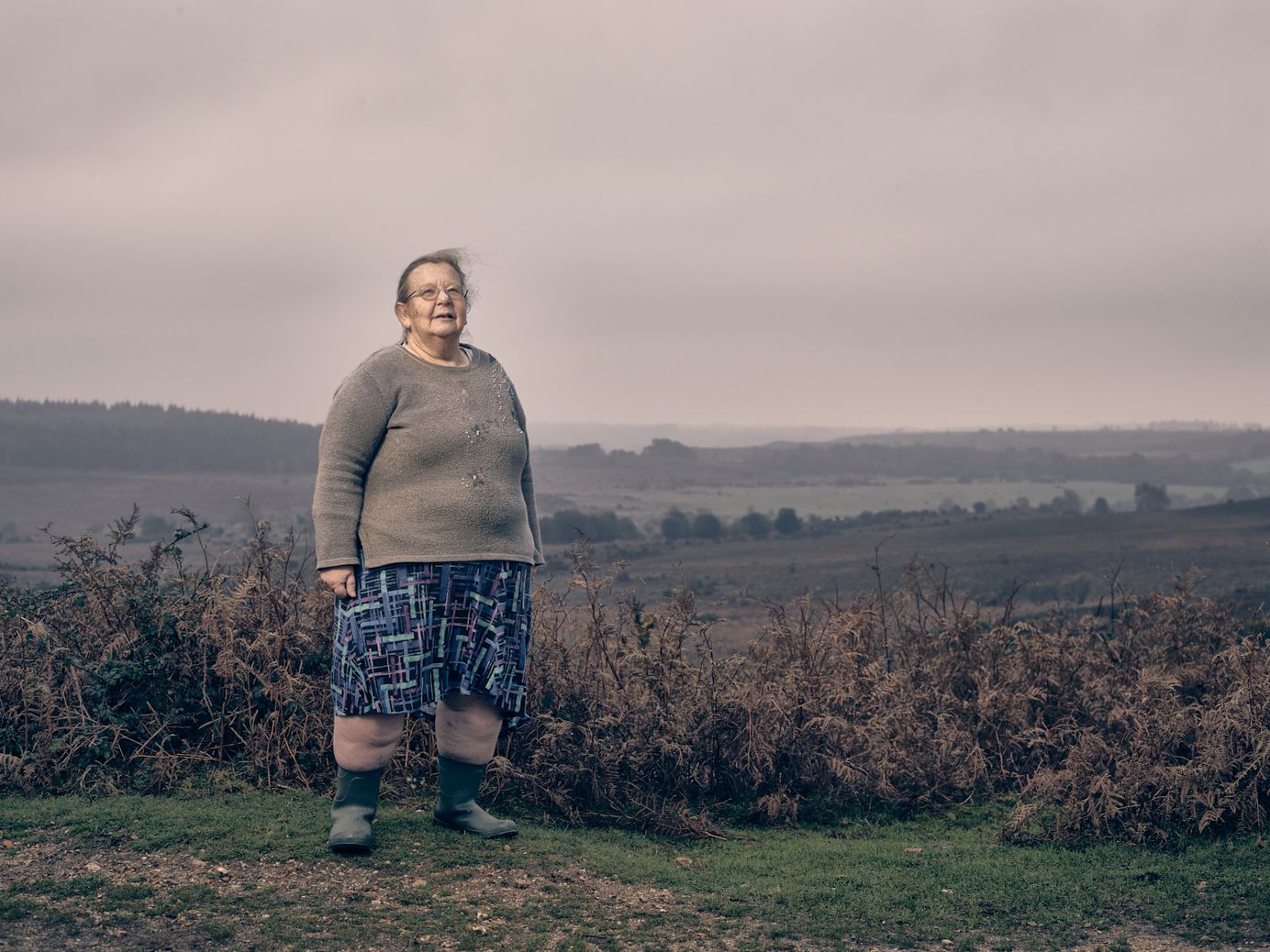 Photo essay: How the English engage with nature
In his photo series, In a Green Shade, Michael Wharley seeks to portray what nature means in England today.
"They should be over there," says Ann Sevier briskly, scanning the heath for ponies. "They come out of shelter to get the morning sun."
But on this foggy November morning in the New Forest, the ponies are nowhere to be found. She strides on undeterred, chatting a mile a minute with the insight of someone who has spent a lifetime in this spot.
The Seviers, a family of Flemish weavers, arrived by boat into Southampton in 1650 and have been grazing animals on the lowland heath ever since. They are exercising their rights as New Forest Commoners, which means they are among the land and property owners who were awarded certain rights by the 1217 Charter of the Forest. In the Seviers' case, this is the right to turn out livestock to pasture.
It's an ancient tradition with a contemporary impact. Multiple small herds of ruminants – and rooting pigs at pannage time – owned by Commoners help maintain the characteristic mosaic of the heath. "Ponies as the architects of the landscape," Ann explains. "Keeping grass short without overgrazing allows greater diversity of species."
As much a feature of the New Forest as her herd, she knows the Sevier traditions will end with her retirement, but she is passing the baton of knowledge to her community. "I've had my father and grandfather to explain the forest, so I feel it's important to share that with others," she says.
We shoot portraits for half an hour. A pony does eventually appear. I record a short audio interview and go on my way, enlightened about this place, its history, traditions and future.
❉
When the idea for a green portrait project first cropped up, the story of the Seviers was exactly the kind I hoped to capture.
Like many English people, my family spent their lives on the land as tenant farmers until three or four generations ago. But today I live in the city, and I share the same sense of nature deficit as many other urban dwellers. Still, I love to be outdoors and occasionally yearn to swap my London flat for an eel-wrangler's coracle.
So it seemed that capturing tradition, the longstanding ties of people to the land, and society's dislocation from nature would be an obvious place to start.
I set out to travel across the country, to meet people and be introduced to their green life. My only agenda was to paint a portrait of how we use, enjoy and protect our country – and yet, as I crisscrossed the country from the Lake District to Cornwall and back again, I realised my canvas would have to be much broader.
❉
Sixty miles north of the New Forest, I met father and daughter farming team David and Tory Carlisle, whose mixed arable pastoral holding –  "one thousand acres owned and rented" – sits high on the chalk uplands of North Wessex, close to the National Ridgeway Trail.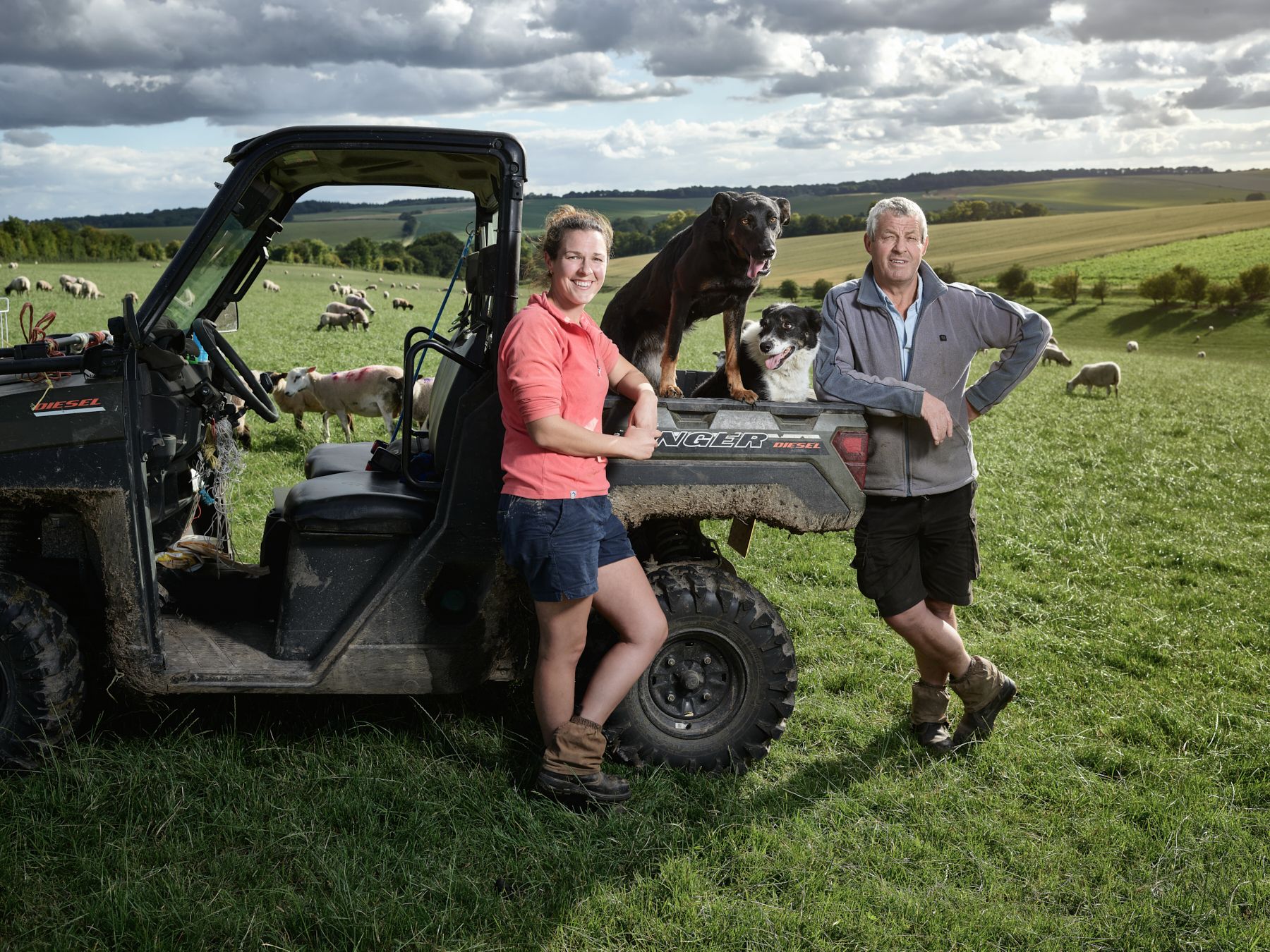 I shot their portraits on a beautiful July evening, the golden-hour sunshine giving each lamb its own glowing halo. But this was a busy working farm, and economic realities were at hand. Food security and farming livelihoods were hot topics; before returning to the farm for the long haul, Tory explained how she had worked in production for the meat industry "to understand how they do things". She'll be the third generation of Carlisles to farm this patch of Wessex land.
Yet when the talk turned to rewilding – in particular, to the groundbreaking project taking place at the nearby Knepp Estate in West Sussex – it was David who was the more open of the two. I confess I was surprised at this; another salutary reminder to this camera-wielding city dweller that conservation is complex, emotive and unpredictable.
Even so, before buggying back to the farmhouse, David took a last look at the fading fields. "Just look around," he exhaled. "What a beautiful place to work."
❉
In a fourth floor flat in Barking, East London, the view was more urban but the internal landscape was similarly green. Actor Danielle Vitalis is the proud owner of more than 40 houseplants, whom she refers to as her "children".
She's found a very 21st century route to nature through an "instagram community of plant mothers and lovers who share and swap cuttings," she says. But these plants are also a portal to the past, reminding her of the summers she spent as a child in her grandmother's rural garden in St Lucia, a "huge space with coconut trees, mangos, cherries and bell peppers."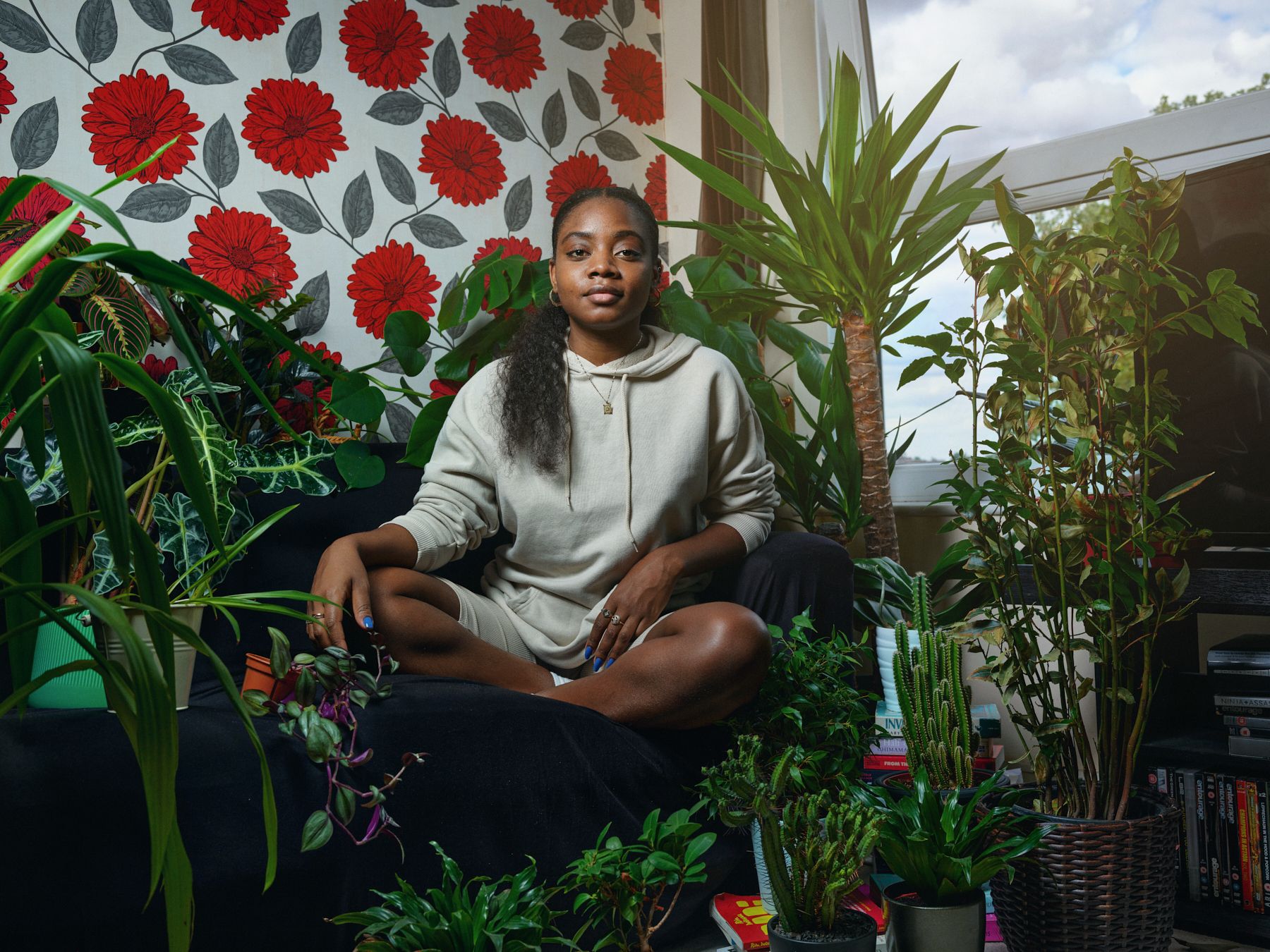 Pausing, Danielle reflected upon an observation familiar to generations of gardeners. "My plants need love. Moving them around, seeing what room they flourish in, watering, caring, pruning, even talking to them – it gives me a sense of routine, peace and calm."
Andrew Marvell might agree. As a fellow Hull native, I took the liberty of borrowing my project title from his timeless 17th century poem The Garden, in which he imagines the mind, contemplating nature, transported to a prelapsarian state:
Annihilating all that's made
To a green thought, in a green shade.
Four centuries on, the notion of 'Englishness' is richer and more plural than ever. Yet a sinister parallel conception of English identity has also emerged, cohering around insular nationalism and not-so-closet racism.
This isn't an England I recognise or want to represent: for me, our shared identity is not ethnic but civic. A love of the green stuff, of this green and pleasant land, might be one of our greatest shared values – a thread reaching through the past, tying Marvell to Danielle and every person whose portrait I've captured so far.
❉
Not too far away on Leyton Flats – some 75 hectares of grasslands, woodland and wetland nestled amid the dense residential streets of Waltham Forest – adventurer Dwayne Fields recalls early memories of "running wild in Jamaican woods and fields".
He has channelled this experience into his work today as a broadcaster and Scouts Ambassador; he was the first Black Briton to walk solo to the magnetic North Pole. His goal now is to help young people. He recounts how he "turned away from violence as a young man, back to the natural world I grew up in," and speaks eloquently about what the outdoors can offer those raised in the inner city.
"You don't need to 'front' out here," he explains. "You can let yourself be vulnerable, find out who you want to be."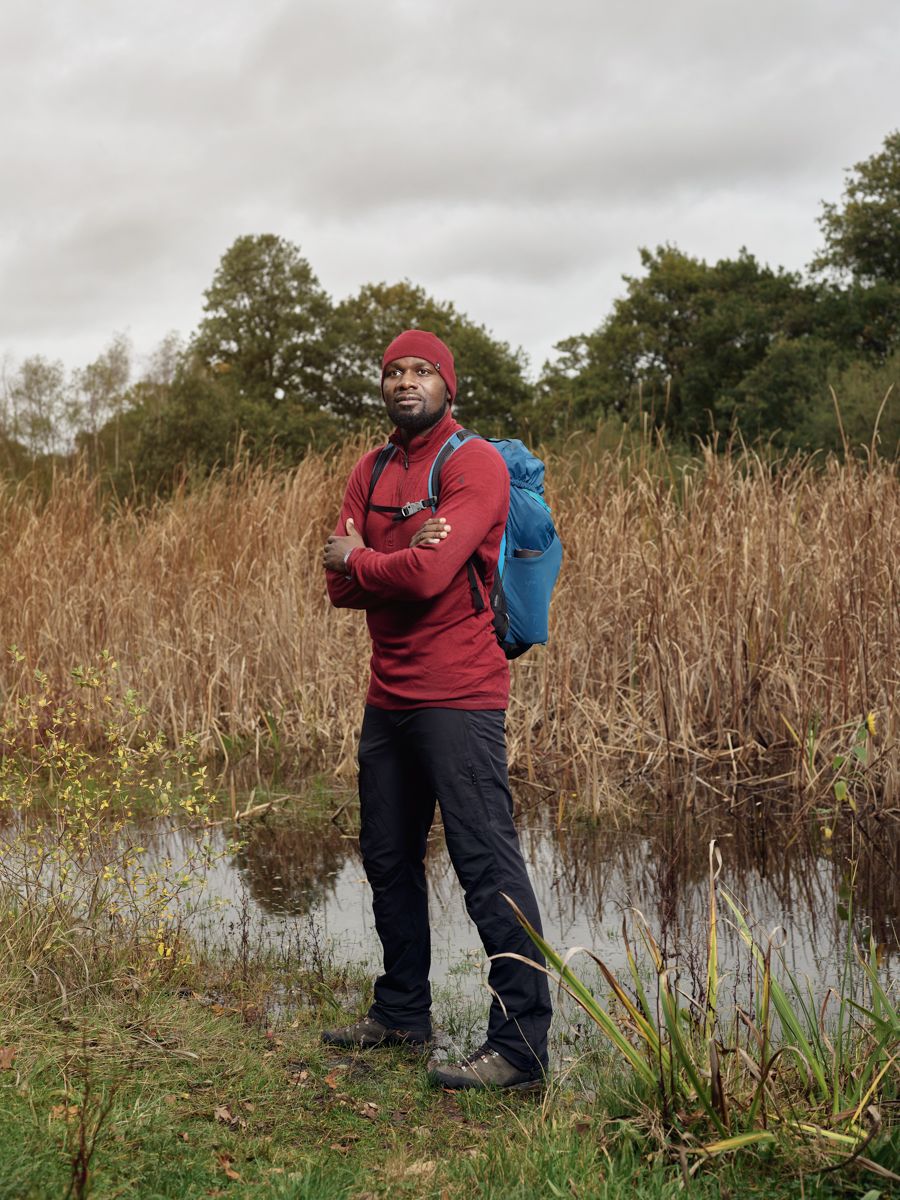 Dwayne has made Leyton Flats an important part of his own children's upbringing, but is also helping to take a group of disadvantaged children from across the country on their own adventure. His #WeTwo foundation, founded with expedition partner Phoebe Smith, will take the group to the Antarctic on a specially chartered expedition ship in 2021, alongside geologists, climatologists and other scientific research teams.
❉
On a blustery day, paddle boarder Tom Rooke shouted between gusts: "This is urban paddling at its best! You're less than four miles from the centre of London but you see swans, herons, willow trees lapping at the water's edge. And then graffiti, skyscrapers and building works too."
Rooke is navigating down the River Lea, a tributary of the Thames that has been converted into a canal to improve navigation – a process that started in the 1500s and continued through the next five centuries. The water threads through North East London, passing quiet reed beds and busy tower blocks within a stretch of just a few hundred metres.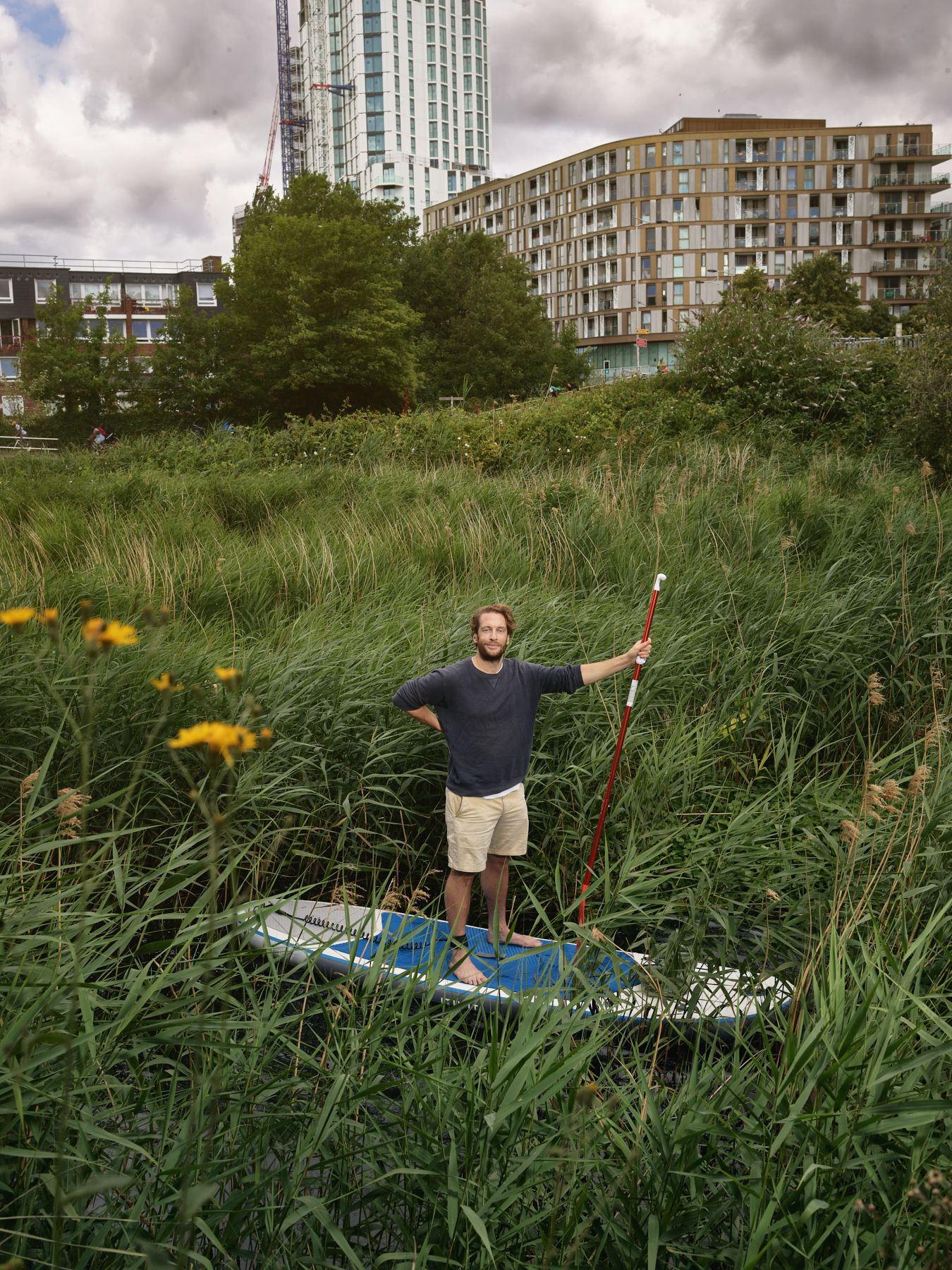 Tom was drawn to join Planet Patrol's plastic pickup sessions as a way to connect with nature and enjoy low-impact exercise after a back injury, but he felt that "on the first session something just fell into place" amid a vibrant community of volunteers. He has since become a fervent ambassador for the charity.
"Ten percent is my nature tax," he said. "The river gives me so much, so for every ten paddles I'll do a plastic pickup day and we'll take out four cubic tonne bags of trash."
So far, he has picked trollies, prams, the odd handgun – "not a body, yet!" – out of the river. "We found a pristine Irn Bru can from 1970," he recalls. "While it's funny to play the game of the weirdest item, it's also serious: the long journey of this river exits into the sea, so every piece we take out is a win."
❉
Down in South London, on a baking hot August day, another community has formed through communion with nature at Brockwell Park Community Gardens.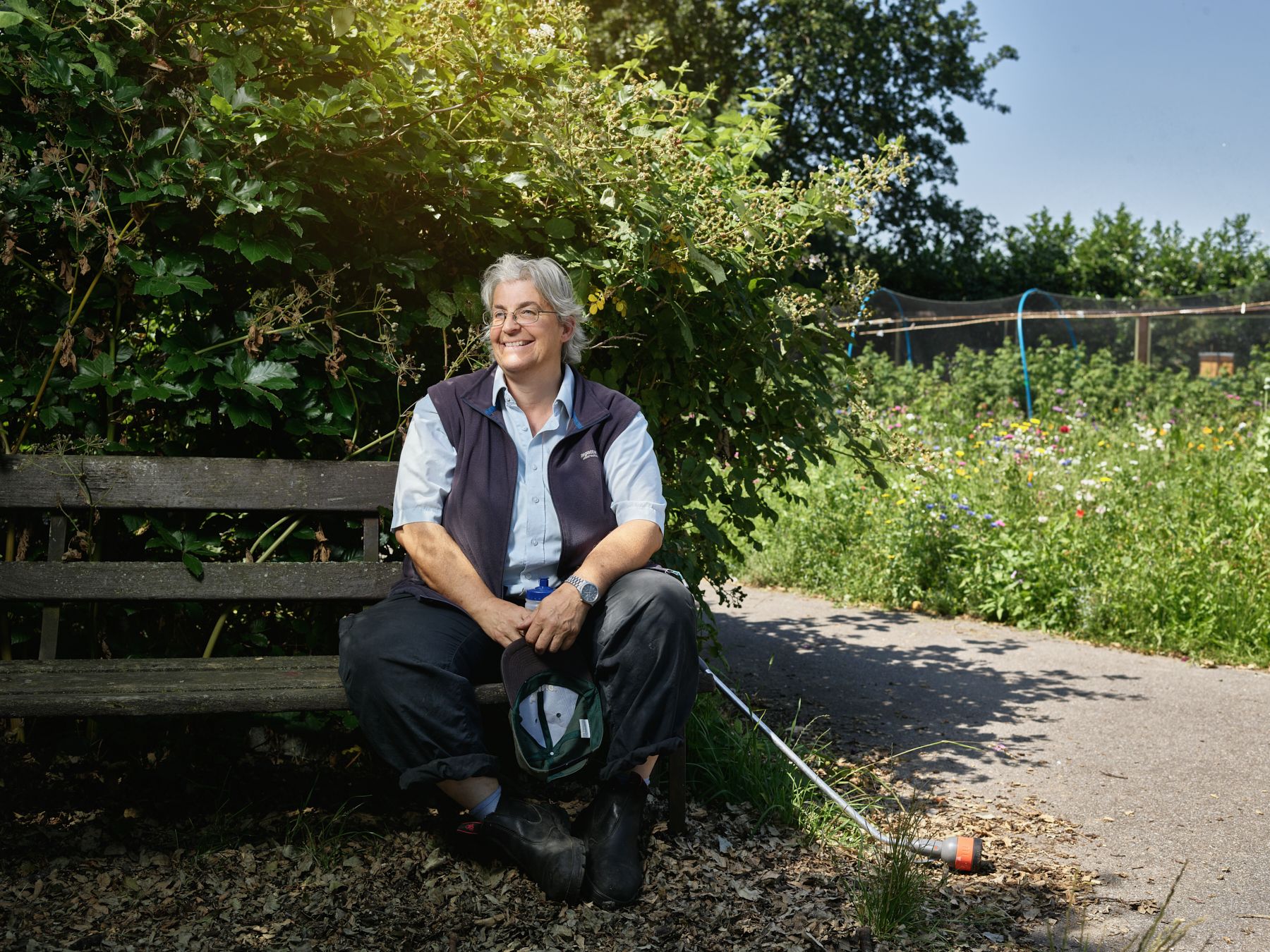 "These were the vegetable gardens of the Victorian Brockwell Hall," explains the charity's community gardener and volunteer wrangler Cat Stevens, as we find some shade. "They were squatted and claimed for the community in the seventies. Parts of what is now the fruit orchard was a tip, so if you dig down you still find bicycle chains and broken bottles".
Today, as well as the orchard, there is a fern bank, vegetable plots, wildflowers, hothouses, and 'climate change borders' with plants that flourish in modern-day Brixton due to a warming climate but wouldn't have survived when the walled garden was built in the Victorian era. The garden's education programmes have targeted schools, families and adults, with a therapeutic gardening session taking place every Friday.
I shot with volunteers of all ages and backgrounds across the site. Some were picking walnuts, others trimming gooseberries or tilling borders. "Some want to learn, some relax, some just want a sense of community and doing things together," commented Cat. "It is a place to engage and make a difference in a way you perhaps can't in the block you live in."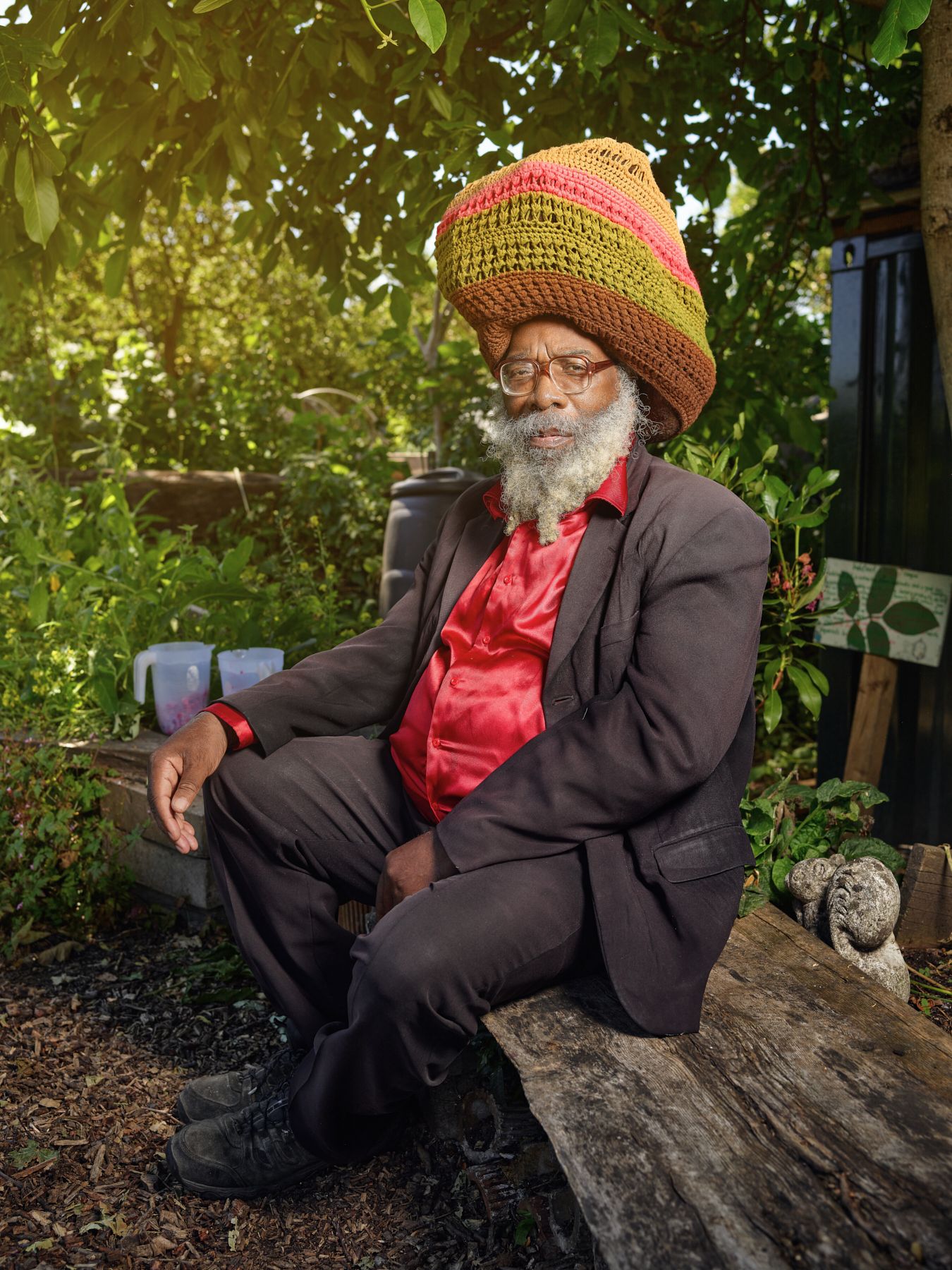 As Errol – dapper in a two piece suit and red silk shirt in 30 degree heat – roused himself from a shady bench and sauntered off to label jam "to sell and raise money for the charity", I felt the ease of the place seep in. It was only at the very end of our chat that Cat quietly shared the personal story that roots her even more firmly to this green spot.
"When I started here my mum's diagnosis of cancer was not good and we were trying to downsize her huge Scottish moorland garden. I decided to bring lots of her plants here and the orchard is full of them."
She pauses.
"That makes it an especially happy place for me."
---
This is just a flavour of the people and places, and the thoughts they have provoked, that I have shot and will shoot over the coming years, as I build upon a composite picture of our shared life in green spaces. If you'd like to take part, or know an organisation or person who should, please drop me a line at michael@michaelwharleyphoto.com.
---

Subscribe to our newsletter
Members receive our premium weekly digest of nature news from across Britain.
Comments
Sign in or become a Inkcap Journal member to join the conversation.
Just enter your email below to get a log in link.
---