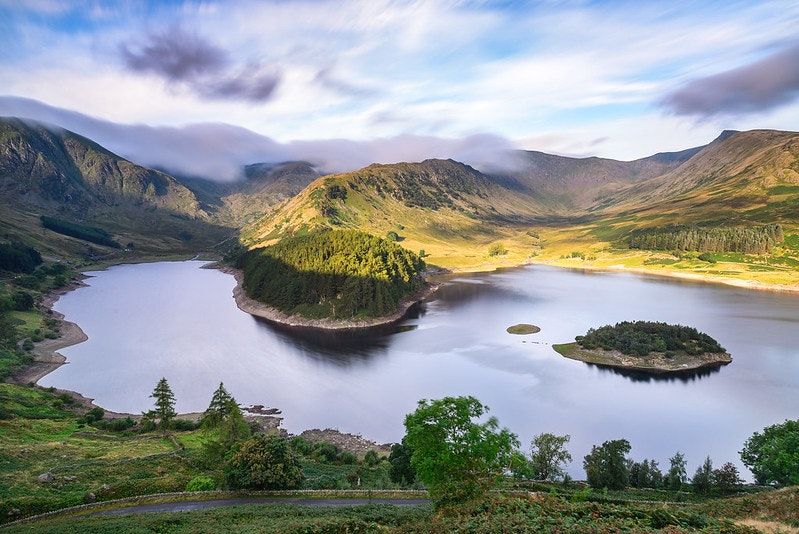 "It is a very contested landscape."
Future Land: An interview with Lee Schofield, site manager at RSPB Haweswater in the Lake District.
This article is part of Inkcap's FUTURE LAND series. Read the full transcript.
---
A working farm, a sublime scene, an ecological wasteland: the Lake District is many things, and perspective is everything.
"It is a very contested landscape," says Lee Schofield, a conservationist who, for the last eight years, has been attempting to restore nature to Haweswater, an RSPB reserve on the eastern side of the national park. His job involves attempting to reconcile these strands – but it has not always been easy.
As far as RSPB reserves are concerned, Haweswater is something of a laboratory. The land is owned by the water company, United Utilities, and is split between two farms, which the RSPB has managed as tenants since 2012.
Rather than abandoning the farms, Schofield has maintained the sheep farming tradition he inherited, while trialling different approaches and conservation techniques to see what might allow nature to flourish. This has involved experimenting with different sheep grazing intensities, managing traditional hay meadows, and putting the wiggles back into the river.
"We're keen to maintain an element of farming and some food production, because we're hoping that that will make the interventions more relevant to others," he says.
"If we can show that the ecological improvements and water quality improvements can work alongside farming – perhaps even support more efficient farming operations – then that's certainly a compromise that is worth making."
This falls short of the rewilding-centered approach that many are calling for; George Monbiot has called the Lake District a "sheepwrecked wasteland". And it goes further than others would prefer. There are "a few guys who are very, very focused on sheep farming and that is the be-all and end-all of what they want to do," says Schofield.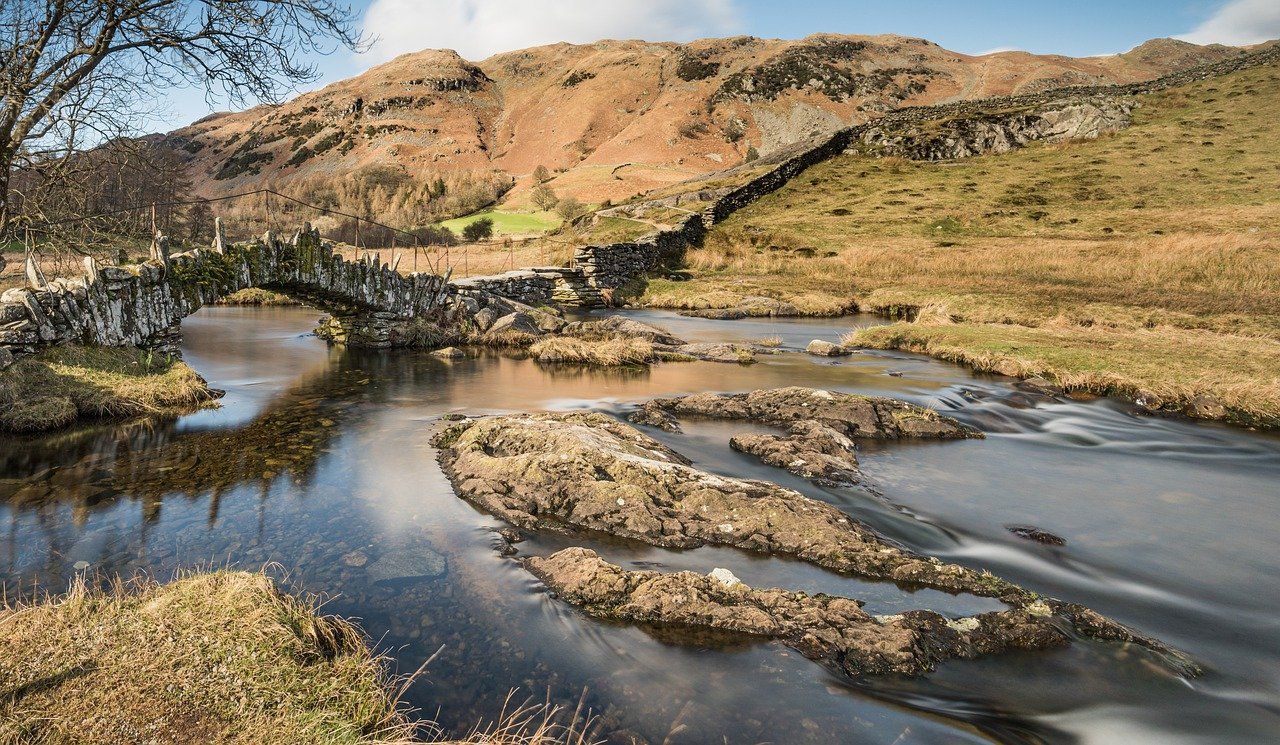 Both sides have a point. The Lake District is an ecologically degraded landscape, with 77 percent of its protected sites considered to be in an "unfavourable condition", according to the government's conservative criteria. At the same time, it is a landscape that has long been shaped by humans, and which continues to provide a home and livelihood to Cumbria's hill farmers.
It's a fragile line to tread, and Schofield admits to some bruising encounters along the way.
"The way I've come to think about it – and the way I'd love everybody to think about it – is hill farming, or any kind of farming really, has always been about delivering the needs of society," he says.
"Take the river in Swindale, for example. The river was straightened in order to protect hay meadows, which were just absolutely critical to the survival of Swindale's farming operations. And so they intervened – they straightened the river in order to get the water away from the valley as quickly as possible.
"Two hundred years later, we've been in there and we've unstraightened the river. We're allowing the water to get onto the floodplain more easily again. But the thought process is exactly the same. The need of society at the moment is reduced risk of flooding; it is biodiversity. So, just like people who straightened it over 200 ago, we've modified the landscape in order to meet the needs of society.
"And that, to me, should be the golden thread. Farming is just in this constant state of evolution, constantly adapting to both allow the people who are working on the land to survive – the local community – but also to satisfy those wider community needs."
The re-wiggling of Swindale Beck could indeed be described as rewilding, says Schofield, but he is reluctant to use the word, despite personally finding it an exciting concept. It has become "a toxic term, and it's tainted other conservation work," he says.
"I think that, unfortunately, the divisiveness of it, certainly in a local context here, has done more harm than good. So I think we need to try to move away from that and find something that people find a bit more acceptable and less inflammatory."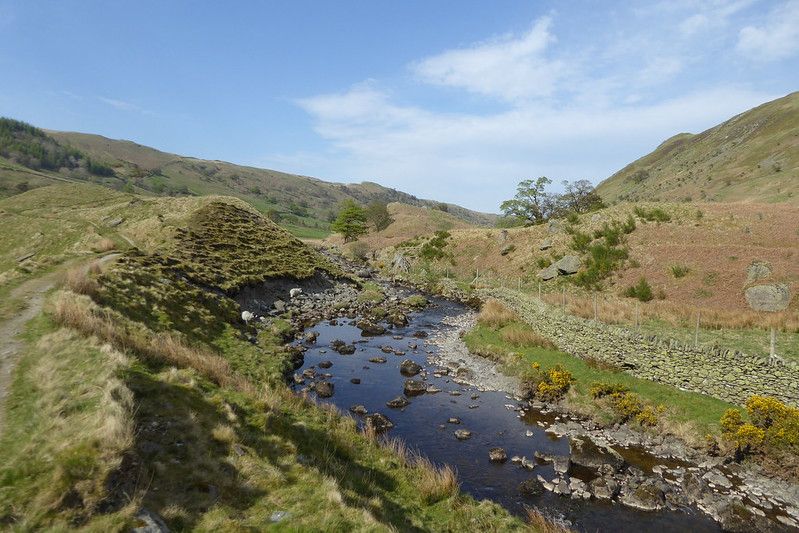 But Schofield regards the attempts to freeze the culture of the Lake District in its existing state – now formalised through its UNESCO designation – as similarly unhelpful.
The region won its status as a World Heritage Site not for its nature and biodiversity, but because it is "an unrivalled example of a northern European upland agro-pastoral system based on the rearing of cattle and native breeds of sheep," according to the nomination document.
"It's put the hill farming on a pedestal, which doesn't really solve any of the problems. World Heritage status doesn't bring any extra funding; it doesn't actually help to physically support the farming interests," he says.
The RSPB is not alone in trying to reconcile the Lake District's natural and cultural qualities. Other farmers throughout the park are attempting to reintroduce nature onto their farms; James Rebanks, who has written two books about his experiences, is the most well-known example.
But good intentions will only go so far. Economics, as ever, is providing a powerful incentive for change.
"The old farms up here are incredibly vulnerable – they're all very strongly dependent on public funding. Without the public support, a lot of these small businesses would be hugely loss-making," says Schofield.
The RSPB has been measuring the economic performance of its farming operations at Haweswater, and the picture is bleak: basic costs, including feed and medical expenses, use up whatever income they make from their livestock.
And so, for struggling hill farmers, the post-Brexit shift in the government's subsidy system to one where farmers are rewarded for the public goods they provide is a "massive opportunity," says Schofield, "because the scope for really large-scale improvements in these landscapes is just huge, absolutely enormous."
The RSPB's latest five-year plan for Haweswater ended in 2020; the next one is in the works, although it has been delayed by the pandemic. But Schofield says that the current ethos will continue, although with some new developments, including fewer sheep and the introduction of cattle – Belted Galloways – and fell ponies.
He anticipates that the impact on the environment will be dramatic. Sheep, with their small mouths, pick out the smaller, sweeter plants, which has led to coarser species dominating the uplands. These larger grazers, on the other hand, will rip away at whatever vegetation they come across, breaking up bracken and clearing space for the landscape to regenerate.
It won't be wild, and it won't be farming as usual. But with economic and ecological pressures mounting, these experimental grazers may uncover some middle ground.
---
The full transcript of the interview is available to paying subscribers. Join now to read more about:
Lee Schofield's forthcoming book, Wild Fell
The row over grazers at Bampton Common
How the Norwegian landscape is influencing Lake District conservation
The personal challenges of conservation
---
Image credits: Joe Hayhurst, Andrew Bowden, Paul Edney
Subscribe to our newsletter
Members receive our premium weekly digest of nature news from across Britain.
Comments
Sign in or become a Inkcap Journal member to join the conversation.
Just enter your email below to get a log in link.
---